Plumbers plan, install, and repair the pipes, fixtures, and appliances that allow water and gas to flow through your home. Plumbers Lexington can also help with clogged drains, low water pressure, and leaky pipes.
Many plumbing problems have simple solutions that homeowners can tackle themselves, but some require the skills of a professional plumber. Here are some of the most common plumbing repairs: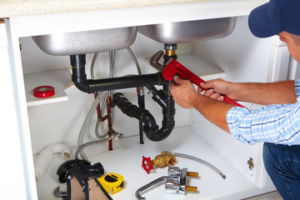 Pipe leaks are among the most common plumbing problems homeowners face. They often develop gradually, causing damage before you even notice them. This is why it's important to regularly inspect your home for any potential problems. Ideally, you should do this on a quarterly basis. This will give you a chance to catch problems before they get out of hand.
The first step in fixing a leaking pipe is to locate the source of the leak. This can be a tricky task because pipes may be hidden behind walls or under the floor. If the leaking pipe is located in a hard-to-reach area, you may need to hire a professional who can use tools like infrared thermography to find it.
Once you've identified the location of the leak, dry off the affected area. Then, remove any furniture or other items that could be damaged by water leaking from the pipe. You'll also want to shut off the water supply to that particular pipe. Depending on the type of pipe, this may be as easy as turning off the valve near the affected fixture. If you have a lot of leaks in your home, you might need to shut off the main water valve.
If you're unable to turn off the water supply, try using a slip coupling to stop the flow of water from the leaking pipe. These couplings are designed for this purpose and can be found at your local hardware store. Just make sure you get ones that are compatible with your pipe material.
Depending on the location of the leak, you'll need to decide whether you can wait for your plumber to arrive or if you need to take more immediate action. Leaking pipes can cause serious water damage to your home if left untreated, so it's important to deal with them as quickly as possible.
As the famous historical writer John Bunyan once said, "one leak will sink a ship." In the same way, one leak in your plumbing can quickly lead to expensive problems, including water bills, foundation damage and mold. By acting quickly and addressing small problems before they get out of hand, you can save yourself a lot of money and stress.
Clogged drains are a homeowner's worst nightmare. Not only are they inconvenient and messy, but they can cause serious damage to pipes if left untreated. Fortunately, fixing a clogged drain or pipe is usually fairly straightforward and inexpensive. However, if you encounter a problem that seems beyond your ability to fix, it's best to call in a professional plumber.
Over time, grease, hair, soap scum, and other debris stick to the walls of your drain pipes and form a clog. A slow-draining sink or tub that's suddenly backed up with water is a sure sign that you have a drain clog. Other signs include a foul smell coming from the drain or toilet and standing water in your basement, which could indicate a broken sewer line.
Most of the drains in your home are connected to the main sewer line by a series of branch lines. If one of these drains becomes clogged, it can affect all the other drains in your house. For this reason, it's important to take care of any clogged drain or pipe as soon as you notice it.
One of the most common causes of clogged drains is tree roots. As they search for moisture, tree roots can enter into cracked or separated pipe sections and create blockages. The best way to prevent this is to keep trees and shrubs away from your home's plumbing pipes.
Another common drain clog culprit is the buildup of mineral deposits, especially in homes with hard water. These minerals build up and clog pipes over time, especially in older systems. Installing a water softener can help reduce this issue.
If you can't eliminate a clog by using a plunger, try pouring boiling water down the drain. This works particularly well if the clog is caused by grease. If this doesn't work, you can use a drain snake or power auger. To use the snake, remove the pop-up assembly in your sink and feed a length of wire into the opening. Push, twist, and crank the handle to break up and dislodge clog material. Once the clog is gone, rinse and flush the drain with hot water.
There are a lot of things that can cause low water pressure. Some of them are easy enough to fix on your own, but others require the help of a professional plumber.
Low water pressure can be caused by a clog in your plumbing lines or a problem with the municipal supply line. If you've tried the simple DIY fixes like checking valves and using drain snakes, and the problem persists, it may be time to call in a plumber to see what's going on with your pipes.
Water pressure problems can also be the result of too many fixtures in your home pulling from the same water lines at the same time. If you've recently added an appliance or bathroom to your house without upgrading the existing pipes, this could be the culprit. A plumber can assess the situation and determine if the old pipes can be cleaned or if new pipes are needed to resolve the issue of low water pressure.
Over time, metal pipes can corrode and restrict water flow. This problem is more likely to occur in older homes, but it can happen anywhere. The good news is that a plumber can typically clean out the corrosion and restore normal water flow.
Another possible cause of low water pressure is a malfunctioning water regulator. A water pressure regulator helps to keep the water pressure in your home consistent. If the water pressure is lower than it should be, this could indicate that the water pressure regulator is malfunctioning or that it needs to be replaced.
Finally, mineral deposits on plumbing fixtures can also lead to low water pressure. Showerheads and sink aerators are especially susceptible to this issue. A simple way to test this is to remove the aerator and clean it out. This can be done with a brush or by using a water pressure tester tool.
If you've been experiencing low water pressure in your home, the first thing to do is check with your neighbors to see if they are having the same problem. It could be a shared problem with the city water line or a local plumbing company.
A pipe that bursts can leave your home soaked, carpets ruined and expensive repairs needed. Though you'll still need to call in a professional plumber for the actual fix, you can take several steps before they arrive to help reduce damage and make the repair easier.
Large puddles beneath sinks or in the basement are obvious signs that a pipe has burst, but you should also watch out for damp spots elsewhere in your home. Water that pools in walls, ceilings or floors is a sign of a break and needs to be dealt with right away.
Another sign of a broken pipe is the smell of sewage. If you notice the odor of sewer in your home, it's time to get the professionals in as soon as possible. The odor is caused by hydrogen sulfide, a toxic gas that forms in rotting pipes.
Loose or broken pipes can cause loud banging or clanging noises when they move or touch each other. This is a sign of friction that could lead to a break in the future, so it's important to check your pipes regularly and make sure they're securely fastened to each other and in good condition.
While it's important to keep an eye out for these plumbing emergencies, it's equally as important to take preventative measures to avoid them in the first place. Insulating your pipes is the best way to protect them from freezing in winter, as is ensuring that they aren't exposed to exterior walls or extreme temperatures.
If you suspect a pipe is damaged, turn off your water and switch off any other power sources in the area. Then, carefully look for the source of the problem. If the broken pipe is inside a wall, you'll need to cut into it, which should only be done by a professional. Before you do this, knock on the wall a few times and listen for a solid sound. This will indicate where the studs are, so you can avoid cutting into them or live electrical wires. Also, always use non-conductive gloves when touching any live wires or electrical outlets.