Water Heater Repair is an important service that homeowners depend on. However, deciding whether to repair or replace the water heater depends on a few factors.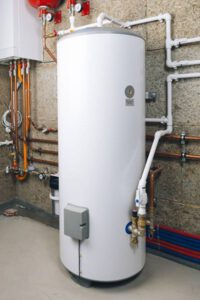 If your water heater is old and you think it might be nearing the end of its life, replacing it may make sense. In some cases, replacing the water heater is cheaper than repairing it. Click Here to learn more.
Leaks are perhaps the most common reason homeowners need a water heater repair professional. When a water heater leaks, it can warp and damage surfaces in the home, create an attractive home for insects and other creatures, and generally cause chaos. Fortunately, there are ways to mitigate leaks from occurring in the first place.
One of the easiest ways to spot a leaking water heater is to check the drip pan. A puddle of water in the pan usually means there's a leak from the hot water tank. If this puddle isn't too severe, a homeowner can simply tighten the connections on the top of their tank with a pipe wrench to fix the problem.
Another way to fix a leaking water heater is to simply check how loose the drain valve and pressure relief valve are. These two valves allow steam and water to escape the tank when too much temperature or pressure builds up. These valves can often become loose due to wear and tear, but a simple tightening with a pipe wrench can solve this issue.
Finally, a leaking water heater can often be caused by sediment piling up inside the tank. Over time, this sediment can cause the tank to crack, leading to a water leak. A puddle of water around the tank can easily be spotted, and it usually signals a need for a replacement water heater.
The best way to prevent a leaking water heater is by responding quickly when a leak does occur. The faster a homeowner can identify the source of the leak, the less likely they are to experience extreme water damage. A quick response also helps ensure the water heater is not damaged further by ensuring that any excess pressure is relieved as soon as possible.
Not Enough Hot Water
Providing enough hot water for a busy household is essential to ensuring that everyone has the luxury of taking showers, washing dishes and laundering clothes. If you're experiencing a lack of hot water, it can make life miserable and even impact your health. There are many reasons you might not be getting enough hot water, and some of them may be easy to fix on your own.
One possibility is that the thermostat on your tank is set too low. This can be a problem because it means that the water will be too cold when you need it, and this can lead to scalding problems.
Another possibility is that the dip tube on your water heater is broken. This is an important part of the unit that shoots incoming cold water to the bottom of your tank, where it can be heated quickly and efficiently. If the dip tube is broken, a lot of cold water might pass into your home's hot water pipes before it gets heated and this can also limit your supply of hot water.
Finally, it's possible that you're simply showering at the wrong time. Most tank-based water heaters have on and off cycles that they follow, and you might be showering just as the heater turns off. Try to shower earlier or later and you should see if this resolves the issue. If not, then it's probably a good idea to have a plumber check out your water heater and the cause of the problem.
No Hot Water
If you are getting lukewarm water from your hot water faucet, your water heater may need a tune-up. This includes draining and flushing the tank, relighting the pilot light (if necessary), cleaning the burner assembly and intake filters, replacing the anode rod, checking water temperatures, pressure relief valves, and heating elements.
If your water is coming out of the taps at a lower temperature than usual, this could be a sign that the dip tube is cracked and no longer sending fresh cold water to the bottom of the tank for heating. In this case, a plumber can easily replace the dip tube.
Another reason why you might not have enough hot water is that the thermostat on your tank is set too low. Most hot water tanks should be kept at 122 to 140 degrees Fahrenheit in order to be energy efficient and produce a sufficient amount of hot water.
A tripped high-temperature cutoff switch could also be cutting power to your unit, and this is generally easy for a professional to diagnose and repair. If you have a gas water heater, shut off the gas supply, close the cold-water inlet valve, and feel around for a wet spot outside the unit or on the ground.
If the pilot light won't stay lit, a gas leak may be present at the thermocouple or at the gas control valve. This is a serious safety hazard, so don't try to relight it yourself. Instead, call a professional immediately. Ultimately, though, your water heater will simply be wearing out and needs to be replaced. Whether you have a gas or electric unit, replacement is a smarter choice than trying to save it with repairs.
No Hot Water at All
When you turn on your shower to start the day, or wash a load of laundry, and there's no hot water at all, it can be a major inconvenience for any household. In some cases, this can be a sign that the water heater is struggling to meet demand and needs replacement. Fortunately, there are a few things you can do to troubleshoot the problem and get it back on track.
First, check that the gas supply valve to the water heater is turned on and open. If it's turned off, call the gas company to have it switched on again. You should also light your pilot light if it's out. If the water coming out of your faucets has a garlic-like odor or is discolored, it's likely that mineral build-up or hard water has caused problems with the tank itself. A Carter plumber will be able to diagnose this and advise you on the best course of action.
Finally, if your water heater is electric, you'll need to check that the breaker switch hasn't accidentally been flipped off by something else in your home. If it has, you'll need to remove the access panel and press the red reset button on the high-temperature limit switch that is found inside the service panel.
While there are a few simple steps you can take to help prevent these common water heater problems, it's always best to have your home's plumbing system inspected regularly by a professional. This can help you avoid water leaks and ensure that your water heater is performing properly, so that you never have to deal with unexpected cold showers or a lack of hot water for cooking and cleaning.
No Water Heater
Since most water heaters are located out of the way, they are often ignored until something goes wrong. If yours is showing signs of trouble, it is important to contact a professional right away. Not only will they be able to fix the problem quickly, but they can also prevent additional damage to your home and personal belongings.
Whether you have an old gas or electric water heater, there are a few common problems that can occur with these units. If you have an electric unit, you may find that the system is tripping the breaker that supplies power to it. If this happens, you will not be able to use the hot water until the breaker is turned back on. If this happens frequently, it is likely a sign of an issue with one of the elements inside of the heater.
On the other hand, a gas water heater may start to act up when the pilot light is out or the thermocouple is broken. You can try to relight the pilot light yourself by using a match or lighter and moving the knob into the on position, but this is only recommended if you know what you are doing and follow the safety manual that comes with your unit. There are real dangers to working on a gas water heater without proper safety measures in place.
It's also important to remember that most water heater repairs aren't covered under homeowners insurance. Replacements are, however, depending on your specific policy and coverage level. For more information about your options, be sure to speak with a representative from your home warranty company. This company can help you understand your coverage and provide you with a quote for water heater replacement, if applicable.