Purchasing a house with a problem sewer line can be a nightmare, and oftentimes, it's not discovered until after closing. Sewer Inspection Los Angeles can prevent this.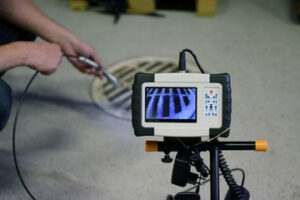 Sewer camera inspections are a simple, inexpensive way to check the condition of your sewage line. Your plumber will gain access to the line through one of your cleanouts.
The cost will vary if you are looking to hire a plumber for sewer line inspection. However, it is worth the investment because it will save you a lot of money and inconvenience in the long run. The plumber will use a camera to look inside the pipes and see any blockages or damage that may be causing slow draining. This will give them a clear idea of what the problem is so that they can come up with an appropriate solution.
A professional plumber will have a high-resolution camera that can record images clearly. The plumber will start at the cleanout and feed the camera through all the pipes until they reach the beginning of the municipal sewer line. They will also be able to check the condition of the pipes, including whether they are cracked or broken. The plumber will then view the video image on a screen and make note of any issues.
The plumber will also be able to tell what material the pipes are made of. This is important information to have if you are buying an older home. Older homes may have galvanized pipes, which corrode over time and can cause health issues. They can also have copper piping, which is not recommended for sewer lines because it is not durable.
During the inspection, the plumber will be looking for signs of damage to the pipes, such as hairline cracks and other small indications that trouble is brewing. The plumber will also look for signs of ground shifting, which can cause the pipes to become misaligned.
If you are planning to add a bathroom or remodel your kitchen, it is a good idea to get the sewer line inspected beforehand. This will help you determine if the line can handle the increased volume of wastewater. It will also help you avoid costly repairs in the future.
There are options for homeowners to rent or buy a sewer pipe camera. However, these devices tend to be expensive and difficult to use. They also require a lot of training to operate effectively. Many people who attempt to perform DIY sewer pipe inspections end up calling a professional plumber later on. This can be very expensive, especially if the problem is severe.
Time
When you buy a new home, your inspector checks the electrical, mechanical, and plumbing systems. But the one thing they probably don't look at is the sewer line. This line connects your home to the city's sewer line and carries all of the wastewater from your toilets, tubs, and sinks to the public line. When this line becomes damaged or clogged, it can cause messy and costly problems in your home. A sewer inspection can help you avoid these issues by identifying any problems before they become severe.
The length of your sewer line and its condition are important factors that will affect the duration of the inspection. The longer the line, the more time it will take for a specialist to run a camera through it. If the lines are in good condition and accessible, the inspection will be a quick process.
Once the plumber gains access to your plumbing line, they will insert the camera and begin exploring. They will check for any clogs or obstructions that might prevent the camera from recording clear images. They will also check for any cracks or breaks in the line that could lead to leaks and other problems.
If you notice a sewer odor coming from your drains, this is another sign that your sewer line is clogged or broken. It could also indicate that the line is not ventilating properly and could be dangerous if left unattended. A professional will be able to diagnose the problem and determine the best course of action.
A professional plumber will be able to use a variety of tools to clean out your sewer line and repair any damage. They may use a high-pressure water jet to remove any clogs or debris. In more serious cases, they might need to cut out and replace any sections of the line that are damaged or corroded.
Having a sewer inspection is an excellent investment for any homeowner. It can identify any issues before they become serious, so you can address them before they cause major damage or cost you a fortune. A professional plumber will be able to recommend the right solution for your situation and provide you with a detailed report.
Detection
A sewer inspection is an excellent way to find problems with a home's sewage line. This service uses a long, flexible snake with a camera on its end to explore the pipes and check for blockages, cracks, and other issues. It's a much less invasive option than digging up the whole yard to look for problems.
The plumber starts the procedure by removing the manhole cover and securing it with hooks or chains. They then use a magnetic device to locate the pipe's location. This saves time, as the plumber knows exactly where to start and can avoid areas with access restrictions. Once they have the location of the line, they create a small opening in the yard and insert the camera. The homeowner can watch the live feed on a monitor to see what the plumber is seeing.
Once the camera is in place, the plumber can check for problems like broken or cracked lines, clogs, and roots that have grown into the line. They can also use the camera to assess the condition of the line, including its age and whether it's made of a durable material like concrete or PVC. The inspection will also show the inspector where the line connects to the house, so they can determine if it has any leaks or other damage.
Leaks are a common problem with sewer lines, and they can cause serious damage to your home. A leaky sewer line can lead to water and sewage seeping into your basement, and it may even cause structural damage. If you notice any signs of a leaky sewer line, call a plumber immediately.
A sewer scope can also help you avoid expensive plumbing problems in the future. If you're considering buying an older home, a sewer inspection can reveal the state of the line and prevent any nasty surprises down the road.
A professional plumber can conduct a thorough inspection with a camera in a few hours, saving you the headache and expense of dealing with a major problem. If you're noticing frequent clogs, sewage backups, or other symptoms of a damaged sewer line, contact a plumber for an inspection today.
Prevention
It's important for homeowners to get sewer inspections regularly. This helps them stay ahead of potential problems and avoid costly repairs. For instance, if a homeowner notices that water takes longer than usual to drain from a sink or toilet, this could indicate that there's a blockage in the line. The best way to find out the cause of the blockage is by having a professional run a sewer scope inspection.
These professional-grade cameras can provide a detailed look at the condition of the lines, so a plumber can take action before the problem gets worse. Plus, a video of the line can help a plumber determine if tree roots are invading the pipes, which is another common problem that can lead to clogs and damage.
Getting a video inspection before buying a home is also helpful. It allows a potential homeowner to know what shape the sewer line is in and negotiate with the seller accordingly. If the inspector finds a problem, the buyer can ask the seller to cover repair costs or even walk away from the deal.
A clogged sewer line isn't just inconvenient, it can also be dangerous. If waste isn't removed in a timely manner, it can overflow into the home and cause severe damage. That's why it's essential to run cold water down the garbage disposal after every use and avoid flushing non-disposable items like food scraps and baby wipes down the drain.
Preventing sewer problems is a lot easier than dealing with them once they occur. Regular inspections can identify small issues before they become big, expensive problems. A video inspection is the best tool for this job, as it allows professionals to see what's happening inside the lines without having to physically enter the property.
If you're considering purchasing an older home, having the sewer lines inspected is especially important. These lines can be more prone to damage and clogs than newer ones. In addition, if trees are growing nearby, their roots may eventually invade the pipes and cause issues. A professional can perform a camera inspection to check for signs of damage, including hairline cracks and shifting ground that might indicate an impending collapse.