When drains are slow to drain or smell, it's a clear sign that they need to be cleaned. Left unattended, drain clogs encourage bacteria and mold growth that can affect your health.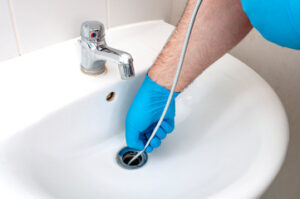 The good news is that you can prevent these problems by cleaning your drains regularly. Here are some of the benefits of doing Philadelphia Drain Cleaning.
Clogged drains are not only annoying and inconvenient, they can also lead to sewage backup and serious health issues. The good news is that many drain clogs are preventable with the right habits and routine cleaning services.
The most common cause of drain clogs is food waste and other organic debris that builds up inside of pipes over time. This can include everything from coffee grounds and eggshells to grease and food scraps. Grease and oil are especially problematic for drains because they solidify when they cool down, creating hard, sticky clogs. Hair is another common culprit, especially in bathroom drains where people often wash, shower, and shave. In addition, if you have hard water in your home, mineral deposits can form on the interior of pipes and contribute to clogs.
One of the easiest ways to prevent clogs is by using drain strainers in all your sinks and regularly cleaning them. These mesh screens fit over drains and catch hair, food particles, and other gunk that can lead to blockages. Using these in conjunction with a drain brush can help reduce the amount of debris that ends up in your drains and pipes.
Another helpful preventive measure is to run hot water down all drains after each use. This can help dissolve soap scum and grease, rinse out drain traps, and eliminate odors. In addition, it's a good idea to use natural drain cleaners like baking soda and vinegar. These are safe for the environment and your pipes, and they work just as well as chemical-based products.
Some clogs are more difficult to prevent, such as those caused by sludge or thick residue buildup. In these cases, professional drain cleaning with high-pressure jetting may be necessary. This method is faster and more effective than snaking or removing pipes manually.
Regular drain cleaning helps to prevent costly repairs and extends the life of your plumbing system. It's important to recognize early signs of a slow drain or clog, such as water backup, gurgling sounds, and unpleasant odors. If you notice any of these symptoms, contact your local ARS/Rescue Rooter to schedule drain cleaning today!
Prevents Water Damage
A clogged drain can lead to water damage. Standing water creates a soft spot in your floor or walls, which can cause cracking and mold growth. Water damage is costly to repair and can affect the value of your home. Regular drain cleaning can prevent this damage and keep your plumbing system functioning properly.
Another reason why drains should be cleaned regularly is to prevent sewage backup. Sewage waste is full of bacteria and germs that can affect the health of your family. It also contains toxins that can seep into the interior of your house and cause damage. If a clog occurs, the wastewater can back up into your home and spill over into rooms like your kitchen, bathroom and basement. This unsanitary situation is known as black water and can be very expensive to fix.
The most obvious benefit of drain cleaning is to prevent clogs. If you want to avoid the inconvenience of stopped-up sinks, slow showers and toilets, then you should hire a professional company to clean your drains on a regular basis. In addition, drains that are kept clean can whisk away wastewater much faster, which is essential for a healthy plumbing system.
While minor clogs can be fixed with drain cleaners that are available at any hardware store, serious clogs may require professional assistance. A clog that is left to worsen can result in a pipe burst or blocked sewer line, which are extremely expensive problems to solve.
Regular drain cleaning can help you avoid major plumbing repairs and save money in the long run. In fact, it is far cheaper to have your drains professionally cleaned than to deal with the consequences of a clog or broken pipe.
A final advantage of regular drain cleaning is to prevent foul odors from permeating your home. Foul odors can be caused by the buildup of food, grime and bacteria in your drainpipes. When these odors are not eliminated, they can spread throughout your entire home.
Prevents Health Issues
When a drain clogs, bacteria and other microorganisms can enter your home and cause health issues. These organisms feed on organic matter like hair, soap scum, food particles and grease. They release foul odors while they degrade, which can make your whole house smell. Performing regular drain cleaning can eliminate these odors and prevent them from coming back.
Most chemical drain cleaners are caustic, meaning they contain corrosive chemicals. They can burn your skin if it comes into contact with them and can damage your pipes if they seep into them. These cleaners work quickly and are effective for most clogs, but they can also be dangerous if misused.
Caustic drain cleaners use ingredients like lye (sodium hydroxide) and caustic potash to break down waste material. They produce heat as they react with the clog, which melts and dissolves grease and other material. These cleaners are typically safe for most pipes, but they can eat through rubber and plastic pipes over time.
Acidic drain cleaners are less corrosive than caustic cleansers, but they're still strong enough to damage some pipes. They're often odorless and work in minutes, but they can burn your skin and irritate your nose and eyes. They can also harm young children and pets who come into contact with them.
Oxidizing drain cleaners strip away electrons from clog-causing materials and creates gasses that break down clogs. They're usually safe for most pipes, but they can erode metal over time.
Non-chemical drain cleaners are gentler on pipes, but they take longer to work. They're also more likely to be used improperly, which can lead to a worse clog later on.
Keeping your drains clear is one of the best things you can do for your home and family's health. Without proper maintenance, your drains may become clogged with gunk that can wreak havoc on your plumbing system. Clogged drains can lead to sewer backup, which can introduce raw sewage into your home. This sewage contains harmful bacteria, viruses, germs and amoebas that can cause illness and even death. Fortunately, these problems can be prevented with routine drain cleaning and by using safe products like Wisler Plumbing & Air's Bio-CleanTM Biological Drain Cleaner.
Prevents Sewage Buildup
Drain cleaning is one of the best ways to keep sewage from backing up into your home. Sewage is loaded with bacteria and germs, which can cause serious health issues for your family if it enters the home through the drains. A professional plumber can clean your drains to ensure that all of the sewage is safely removed from your home. They will also look for any issues with the pipes and can spot potential problems early on, which will save you money on costly repairs in the future.
It's common for debris like food scraps, hair, grease, soap scum, and coffee grounds to get caught in the drain. These small particles may not seem harmful individually, but they can bind together and form a clog that stops water from flowing properly. This can lead to a variety of issues, including slow-draining water, unpleasant odors, and even structural damage. Regular drain cleaning helps to prevent these issues and keep your home looking and smelling its best.
A major clog can be a huge hassle and expensive to fix. It can result in a backup of waste and even toxic sewage. A clog can also encourage the growth of mold, mildew, and other pathogens in your home's pipes and drains. A drain cleaning service can help to prevent these issues by removing any buildup and keeping your pipes healthy.
If you are considering buying a new home, it's essential to have the sewer lines inspected before the closing. A professional plumber can use a camera to view the condition of the pipes and check for any potential issues. It's a good idea to schedule a drain cleaning service at the same time as the inspection, so you can address any problems before they become severe and cause damage to your home.